SPUTNIX and MULTICLET Corp. will jointly develop advanced microprocessors for space technology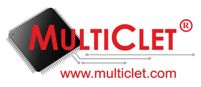 Skolkovo, 26 April. SPUTNIX and MULTICLET Corp., residents of innovation center Skolkovo, signed an agreement on participation in joint development and application of highly performant fault tolerant low power consuming processors designed on the basis of multicellular architecture for control systems of small spacecraft.
SPUTNIX is interested in the use of highly performant fault tolerant low power consuming processor cores and processors designed on the basis of multicellular architecture developed by MULTICLET Corp. in its systems for space-related application, and MULTICLET Corp. is interested in testing its chips in real spaceflight conditions.
Processor cores of MULTICLET Corp. are developed on the basis of patented non-Von Neumann multicellular architecture. The main difference from traditional Von Neumann architecture is that multicellular architecture operates with statements consisting of commands. Realization of all operations within each statement without memory involvement provides processor power increase by 4-5 times and reduction of energy consumption by 10 times.
"We believe that these processors have tremendous potential for space technology application. These chips have everything that space technology requires: high performance, low power consumption, affordable cost and most importantly, due to multicellular architecture, very high tolerance in conditions of space radiation," – notes Andrei Potapov, SPUTNIX General Director.
"Application of our processors in SPUTNIX spacecraft should demonstrate to companies-developers of space technology the advantages of our solutions and confirm their performance capabilities in space conditions," – says Boris Zyryanov, MULTICLET Corp. CEO.
The innovative processors are planned for application already in the first spacecraft developed by SPUTNIX – the microsatellite TabletSat-2U that is planned to be launched in 2014.
About SPUTNIX
SPUTNIX is an innovative center for development, manufacture and ground testing of prospective elements and systems for small space vehicles. SPUTNIX is a subsidiary of SCANEX Research and Development Center (scanex.ru). At present work is under way to develop a microsatellite 10-50 kg platform to be assembled based on the Space Plug and Play Architecture, or SxPA principle. The SxPA principle makes it possible to assemble space vehicle's elements and systems as blocks of a LEGO constructor. Minimal weight of payload for the platform can be up to 2 kg, with maximum weight up to 15 kg. With various sets of service systems, sensors, controlling units, and transmitters in place, it will be possible, from available devices and constructive elements, to assemble a microsatellite platform for various needs. The satellites were named TabletSat, as the smallest one resembles a tablet, and the large one looks like a pack of Vitamin C.
Detailed information can be found on the website: www.sputnix.ru
For additional information, please contact Stanislav Karpenko, Technical Director (+7-916-527-47-98, This email address is being protected from spambots. You need JavaScript enabled to view it.">This email address is being protected from spambots. You need JavaScript enabled to view it.)
Follow SPUTNIX on Facebook www.facebook.com/sputnix.ltd
Follow SPUTNIX on Twitter www.twitter.com/sputnix_ltd
About MULTICLET Corp
MULTICLET Corp. is a company dealing with creation, production and market launch of highly performant fault tolerant low power consuming processor cores and processors designed on the basis of multicellular architecture.
MULTICLET Corp. is a completely formed design center consisting of 5 departments. MULTICLET Corp. is a fabless company with head office in Ekaterinburg, Russia.
Detailed information can be found on the website: www.multiclet.com
Follow MULTICLET on Facebook http://www.facebook.com/pages/MultiClet/104189263037799
For additional information, please contact Ekaterina Ismagilova, Public Relations Specialist, (+7 (343) 378-77-88 Ext. 2209, This email address is being protected from spambots. You need JavaScript enabled to view it.">This email address is being protected from spambots. You need JavaScript enabled to view it.).